DATEMEFREE.ORG MESSGES

Below are a list of messages received to a baiting
profile on datemefree.org
Every one of these are scammer profiles.

ADDED Nov 24th 2008

Hello!
Now these messages as mine,
already pass also special attention do not
pay. But I very much would like
to interest you in the letter.
I know, that now on the Internet very much
and it is a lot of messages of a similar sort
and very much not many are valid and true.
But I nevertheless want to try happiness
and to find that unique, lovely,
sensitive and careful friend.
I hope, that it - you!
If I have interested you in
the letter I shall be very flattered
to receive from you the answer
to this address vera80@rocketmail.c om.
Also can be...!
Simply Vera.
Bye, bye.......




Hi! I have looked your profile in this agency, and I have decided to write to you because you have interested me. My name is Tatyana, me now 26 years, live in Russia, in the city of Moscow. You likely are surprised to that I write to you because between us, very big distance, but I write to you because I think, that distance for love, it not a problem. I search for serious relations, therefore, if I have interested you you can write to me on my personal e-mail, it tanechka.love@yahoo .com and I will wait your letter. I will be glad, if you send me your photo. Tatyana from Moscow!


Hi I'm called Olga I had for 28 years I Single second half looking for the girl beautiful and thin sports!! I am pleased that I finally found your profile on the site www.datemefree.org once I saw your picture with a friend and you liked me very much demand as you can find me and me said that your profile one of these days I saw you on the site long www.datemefree.org and sought to find me it will be nice if we continue our relationship but not in the site but to help give me a Email Email kissolga8@yahoo.fr you and I'll wait for you letters with the hope Olga!




Hello, my name is Inna, I would like to communicate with you on email. Please write to me on my email: shemalakovainna@ymail.com
I wait for your letter in my emailbox. Inna...




Hi! I liked your profile. You have very strongly interested me also to me it would be desirable to get acquainted with you more close. If I also shall interest you that please write to me on my e-mail: gulechkag@gmail.com or give me the e-mail address. I shall be happy to receive the letter from you and some your photos. Please answer me as soon as possible. I with impatience shall wait for your answer. Gulnara from Kazan.

ADDED Oct 8th 2008

yanchikm79@mail.ru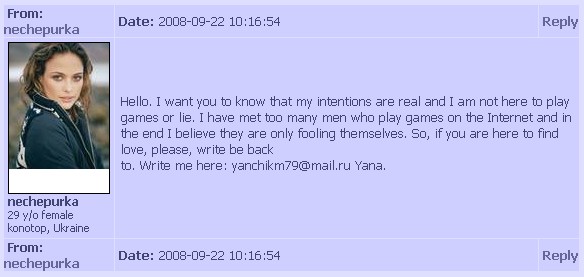 tatyanchak19884@gmail.com




irenebauty4lav@yahoo.com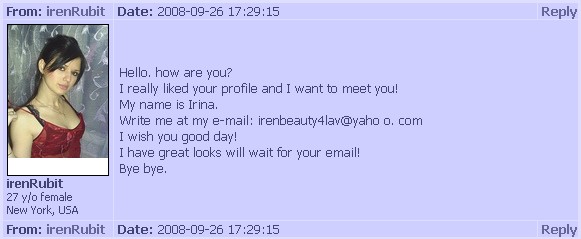 angel1lovebaby@yahoo.com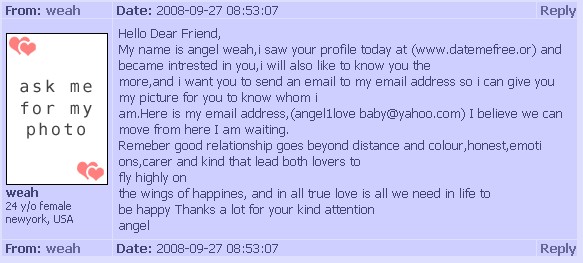 ADDED Sept 22nd 2008

svetusikass@mail.ru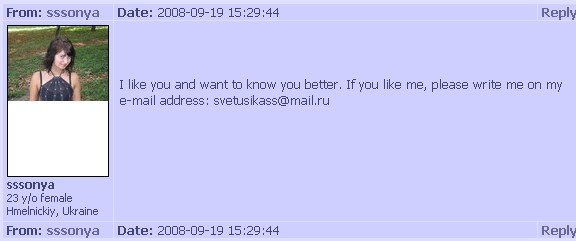 valentinahoneygirll@yahoo.com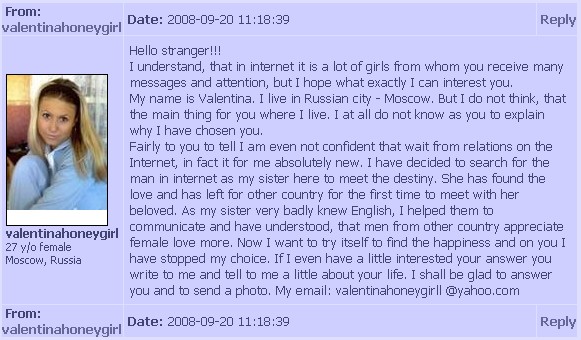 jessi_reall_luv1@yahoo.com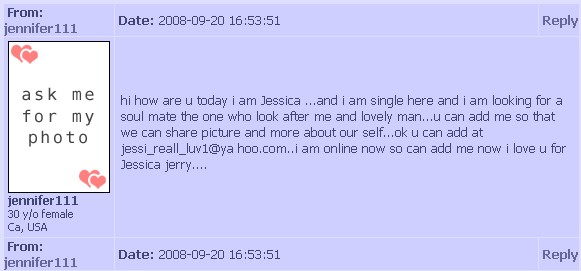 bubadebora@hotmail.co.uk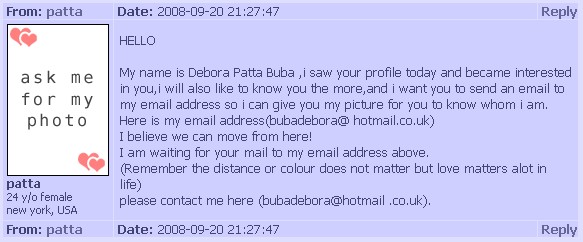 ADDED Sept 19th 2008

jolisara@yahoo.com



ADDED Sept 18th 2008

vivianstella1215@yahoo.com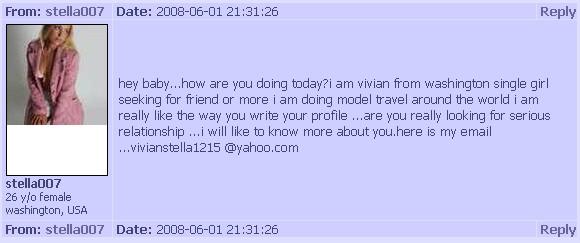 queen200oromo@yahoo.com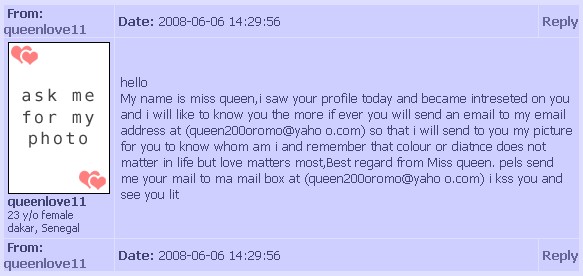 lovemeetforyou@yahoo.com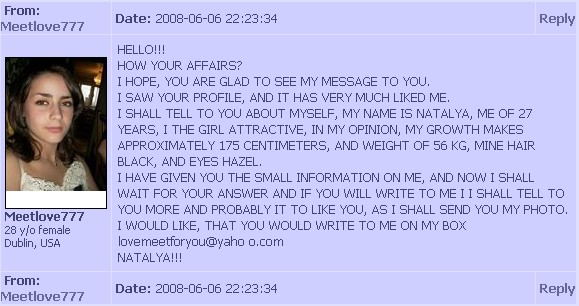 juliet.baby48@yahoo.com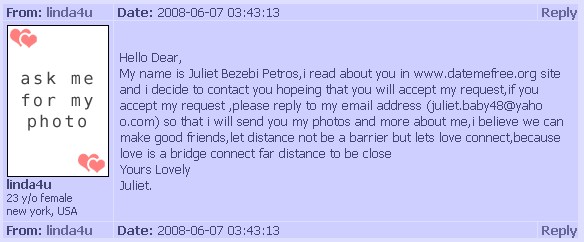 juicylady@yandex.ru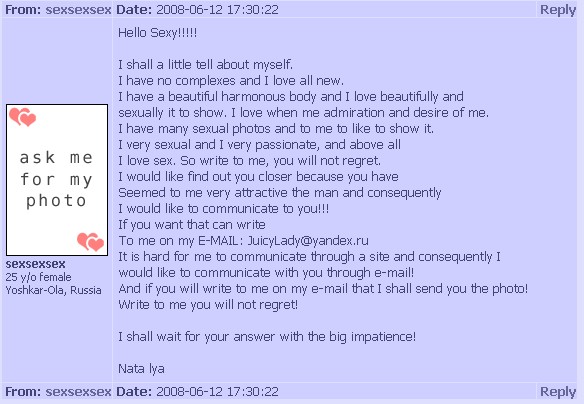 mrsprincesbeyonce@yahoo.com



msangel77713@yahoo.com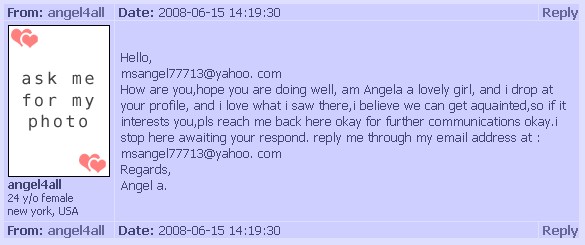 joy_godwill01@yahoo.com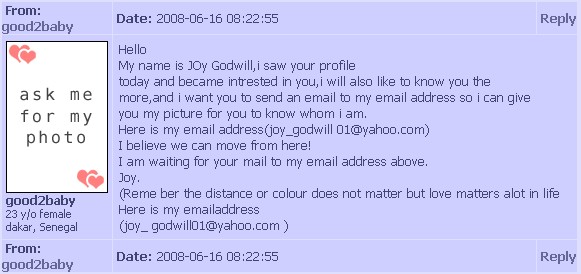 tati80mc@yahoo.com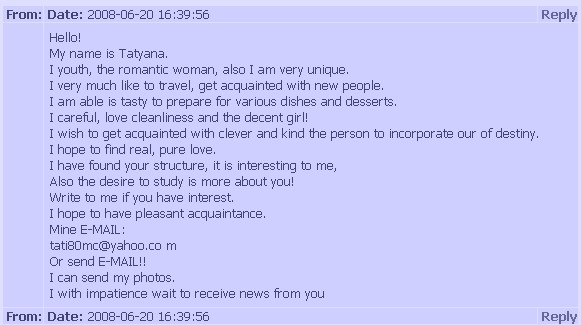 elena77ua@inbox.ru




glitters_g@yahoo.com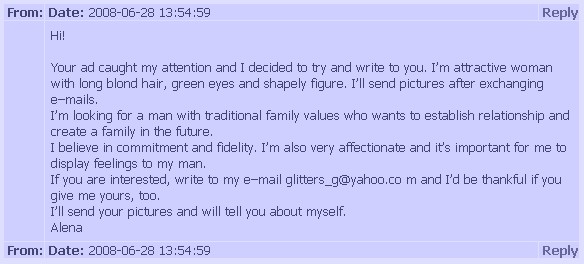 lovely_elena_sweet@yahoo.com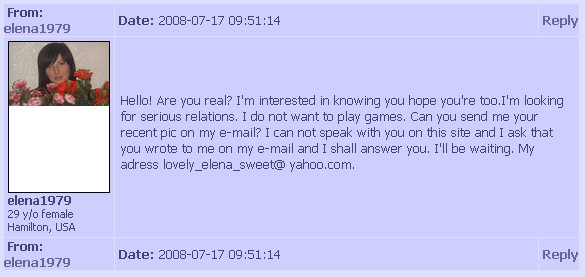 yuliya.kazan@yahoo.com




svetamasya26@inbox.com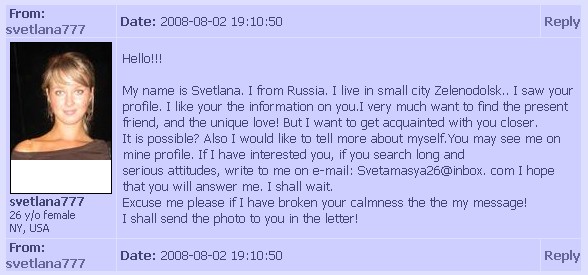 goldbaby49@yahoo.com




vika79@yahoo.com



elenakisses@yahoo.com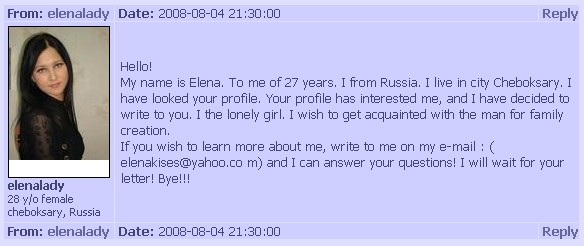 shelby4love73@yahoo.com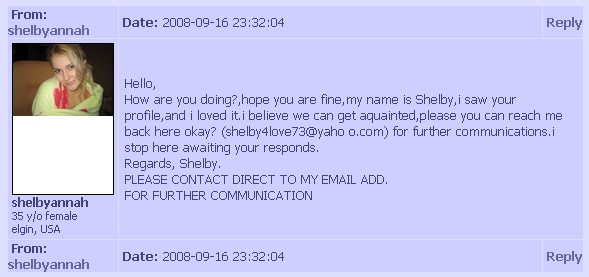 faithlovedavid@yahoo.com



sharon_scott05@yahoo.com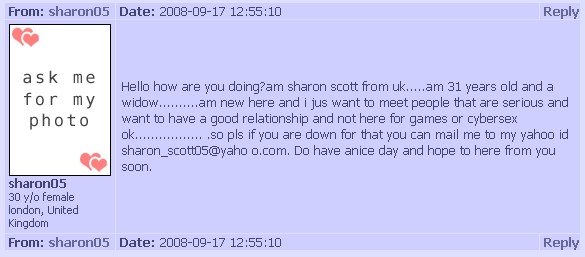 aliyah4real333@yahoo.com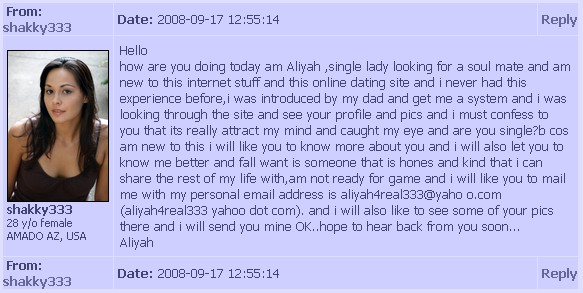 nataya-goncharova@rambler.ru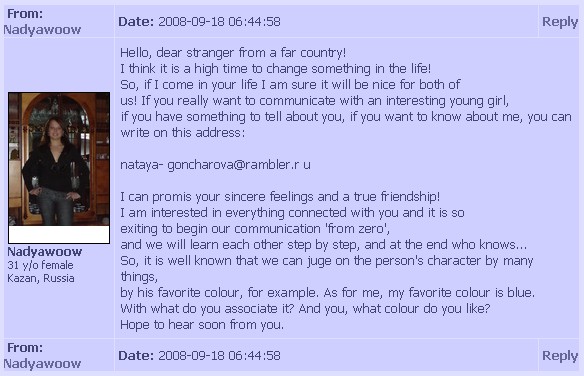 More to be added.